Augmented Reality – Where the physical & digital worlds meet
Now in its 3rd year, this one day conference & expo will provide a unique insight into the capabilities, innovations, successes and future direction of AR.   This platform is designed to bring together the industry advocates, leading technology providers and innovative companies/brands looking to discover, explore and embrace the concepts AR brings.
Attend AR Summit to explore and debate these topical areas:
Facts & figures on the state of the industry, future direction and opportunities
Why augmented reality should be taken as a serious business opportunity and how to overcome perceived barriers
Assessment of the technologies & applications pushing forward the industry and opportunities these present to developers and AR adopting companies as well as the end users
Showcase from the five core verticals for augmented reality – Retail, Entertainment, Publishing, Education & Information Services and Industrial
Examining the role of AR within our ever growing social existence and how AR can deliver increased relevance in social content sharing.
Explore the emerging eyewear and wearable technologies – user experience, considerations and practicalities
Demonstrate the use of gesture control and other advanced input technologies
Speakers: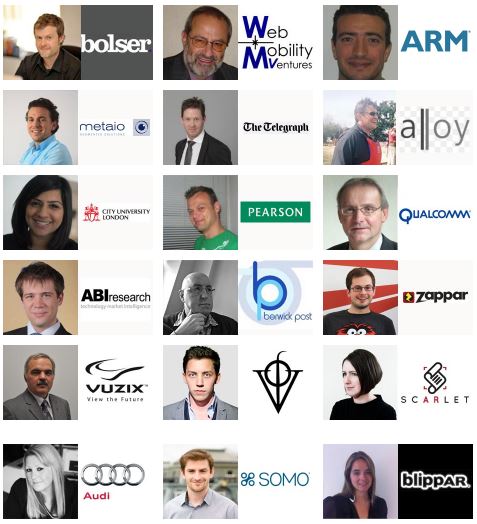 Who should attend?
Anyone & everyone looking to truly enhance their product/brand in an innovative way, pushing marketing, video blogging and advertising boundaries.
More specific..
All heads of marketing, brand managers, publishers, media agencies, app developers, technology providers, AR start-ups, AR-enthusiasts, PR agencies. We will also be livestreaming the event on IPTV Channels and selected video streaming mediums.
Brands Attending:

AR Summit in a nutshell
* Networking – the event offers a unique opportunity for technology provides to develop a personal and direct relationship with current & potential clients and for new AR adopters to discuss first hand with those driving forward the sectors and like-minded marketers.
* Conference designed to educate on new technologies & best practices, whilst providing the opportunity to hear directly from leading AR speakers & brands who have successful adopted AR
* Inspiring atmosphere to gain new ideas, try new concepts , share experiences & discuss common problems.

* Exhibition – a unique branding opportunity – with the quality and number of visitors who attend AR Summit, exhibiting gives you great brand exposure to the people who matter
* AR Awards – recognising & rewarding those excelling with AR